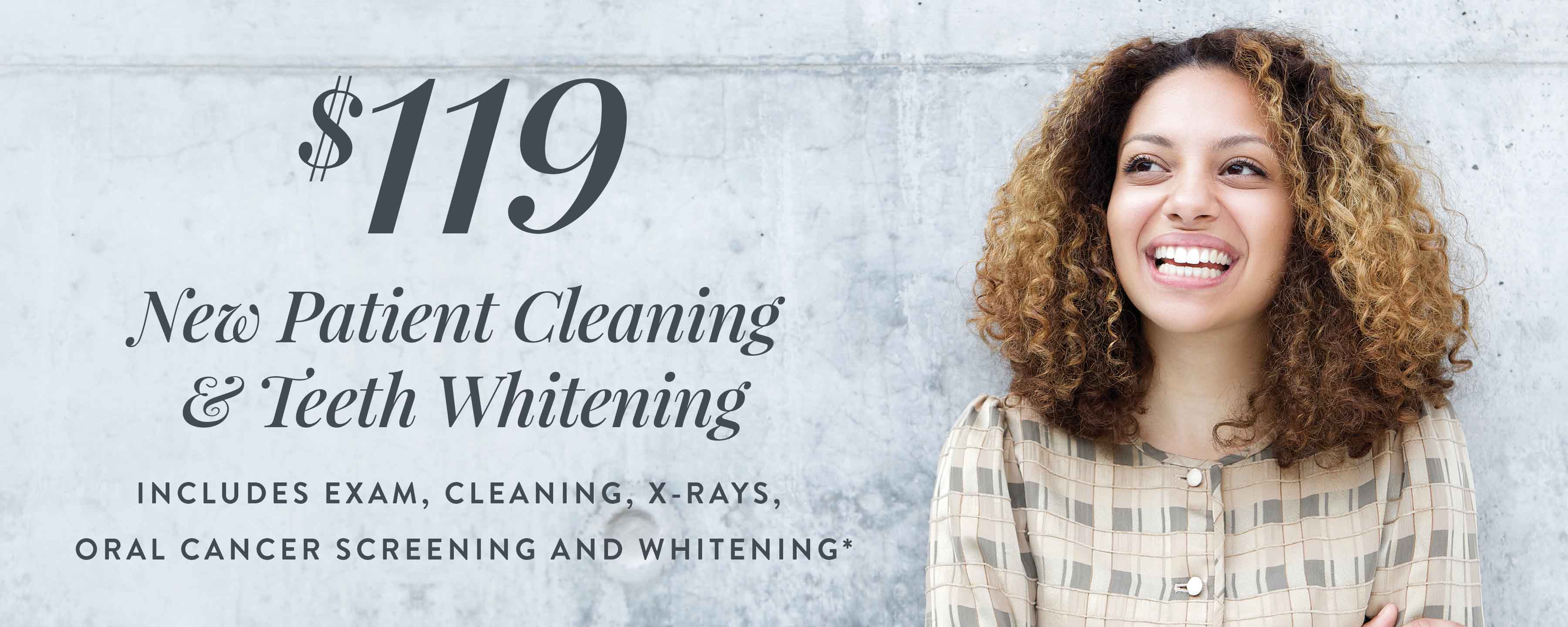 Includes Exam, Cleaning, X-rays, Oral Cancer Screening and Whitening.
CareCredit
CareCredit is a healthcare credit card designed for your health and wellness needs. Pay for the costs of many treatments and procedures through convenient monthly payments.
Our patients leave smiling


Really good staff, nice clean building with separate kids area…like a mini theater.

Asya R.



Best dentist I have ever been to. The staff are extremely caring and patient. Dr. Miranda encourages you to do what you need, such as brining a music player and headphones if you have anxiety. They are patient if you need a break to close your mouth during any procedure. Just an overall fantastic friendly environment.

Hilary T.



Best service as usual!

Claire C.



Efficient, friendly, and informative. I have not been in the dentist's chair in several years and decided to visit to attend to neglected problems. The doctors, technicians, and staff were very accommodating and helpful.

Michael K.



I am a long time patient of Konikoff Dental and love going there! Our family has been a part of the Konikoff family for over 30 years! We would never go anywhere else. If you want gentle, caring, and expert care, then go to Konikoff Dental.

Mary D.



I think Dr McCarty is a kind, caring dentist. He regularly took the time to ask if I was OK or in any pain during my (difficult) cracked molar extraction, and when necessary provided extra "numbing" and/or lidocaine as needed. He thoroughly explained the procedure before he got started, and the assistant explained after care both before AND after the procedure. I will definitely go here again.…

Margaret G.



Great experience, highly recommended! We appreciate that United Concordia is still accepted!

Samantha F.



Amazing experience ! I've never been to a more inviting , professional and friendly dentist office in my life. From the hygienist to Dr. Emily and assistant Justine to the front desk and office staff. After a cleaning and two fillings I walked out calm and collected and feeling excellent about my experience. Highly competent about insurance and what is covered and not covered. 100% recommend to…

Melanie R.



Superb customer service. Staff were very professional and fulfilled my dental needs. I would definitely utilize Konikoff in the future.

Darryl B.



My kids and now grand kids go to Konikoff. We love this place and how gentle they are with the girls. The place is clean and staff is awesome! Highly recommend!

Iris Z.



I don't often take the time to write reviews but our experience with Dr. Herce has been exceptional so it's worth taking the time to tell you that you will not find a better children's Dentist in Hampton Roads than Dr. Herce. His demeanor with children is not something that can be taught. He is so patient, kind, and soft spoken. My son had complete meltdowns his first 2 visits and Dr. Herce…

Micah L.



Great people and thorough care.

John P.



Dr. Pearl and her assistant are a great team! Dr. Pearl is precise and takes the necessary time to ensure you will be satisfied with result. Her assistant is extremely personable and keeps my mind otherwise engaged. :) I know her assistant"s daughter start school in a few weeks! Good luck to you both!

Sandra T.



Love all my dentists and their staff! Always good vibes.

Taylor C.



The dentist is sometimes scary for kids (and adults) but this man is MADE for this job. The kids adore him and his staff. Everyone is wonderful, there's plenty to keep the kids busy and I'm always in and out fairly quickly. I never want to take my kids anywhere else. Highly recommend them to absolutely anyone that will listen.

Jasmine L.



We have found a dental experience that my kids actually LOVE to come to and they are never ready to leave. We literally use to have prepare and calm my oldest just to get him in the car. Now he looks forward to seeing his dentist because he feels cared for! All three of mine do. That means so much to us. Thanks to all who create a fun, loving and peaceful environment for dental care! -Beth

Beth L.



Love Konikoff! I started going here about a year and a half ago, and all have been great experiences. I usually see Dr. Santos and he always seems extremely knowledgeable and friendly. It's quite embarrassing, but I have a huge fear of needles, so getting injections for fillings is the stuff of nightmares for me. But, he always does a great job of keeping things upbeat and that makes it almost b…

Ash T.



My experience at the Harbourview office was wonderful. Dr. Santos and his Assistant Mae was awesome. They provided me with a blanket and a pillow while I watched what I wanted to watch on T.V.!!!

Denise B.



Dr. Richards and her staff provide the best dental experience you can ever encounter. I actually look forward to going to the dentist now, how weird is that, haha? :-) Keep up the great work.

Brian K.



Going in to see Dr. K and my awesome hygienist is such a positive experience. I don't feel like I'm in any type of cold, impersonal healthcare facility when I'm there. Instead, I actually feel like I'm around family. And I've only been twice. Both Dr. K and my hygienist are so kind and positive and attentive. They explain everything so nicely to me, and without a shadow of a doubt, I can…

John S.