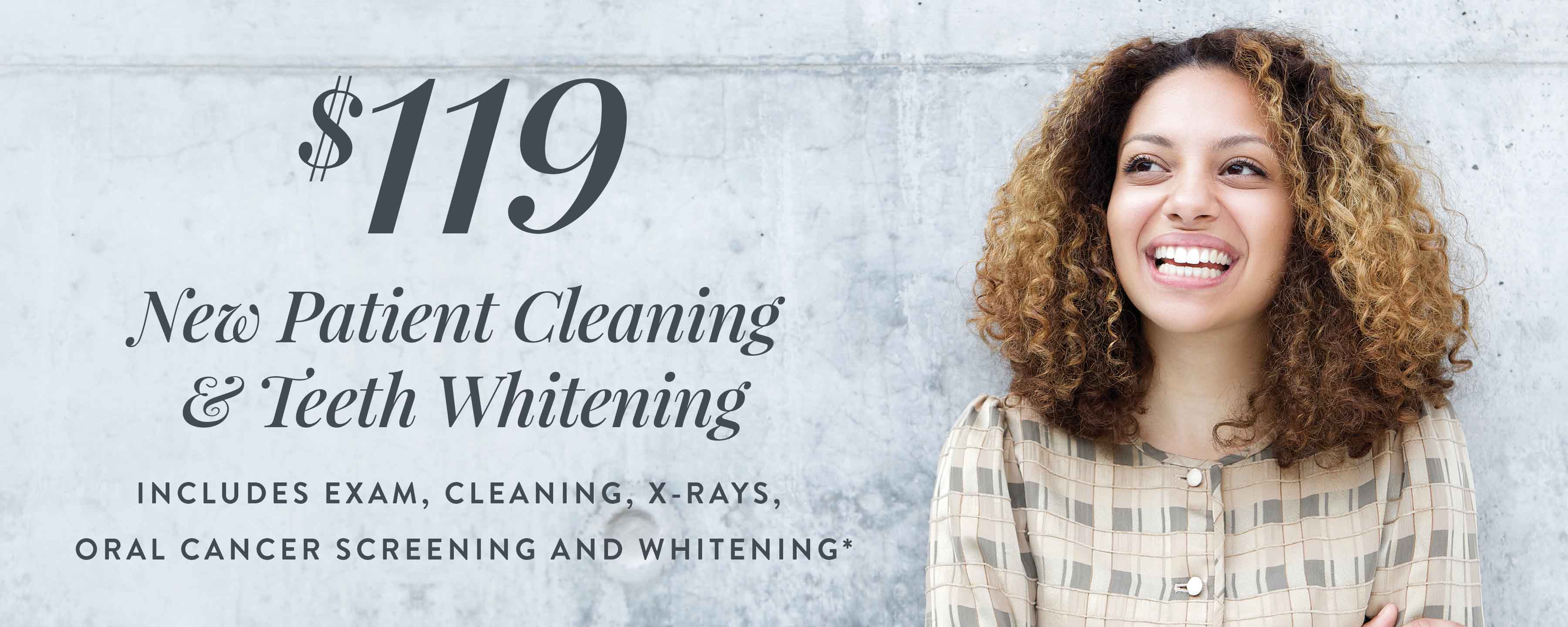 Includes Exam, Cleaning, X-rays, Oral Cancer Screening and Whitening.
Office Hours
Monday 8:00 AM – 6:00 PM
Tuesday 8:00 AM – 5:00 PM
Wednesday 8:00 AM – 5:00 PM
Thursday 8:00 AM – 5:00 PM
Friday 8:00 AM – 5:00 PM
Saturday 7:30 AM – 12:00 PM
* 1st Saturday of month
CareCredit
CareCredit is a healthcare credit card designed for your health and wellness needs. Pay for the costs of many treatments and procedures through convenient monthly payments.
Our patients leave smiling


As always very professional service and friendly personnel.

Jose L.



Dr. McCarty and his team (Erin and Kelly) are the best people I have ever had interaction with at a dentist office. They are friendly, caring and truly make you feel at ease. They go out of their way to make sure you feel safe and secure. Very understanding and empathetic, I feel lucky to have found them! If you need a dentist or have anxiety about seeing a dentist, Dr. McCarty is the one to see.…

Lisa M.



Dr. Richards and her staff provide the best dental experience you can ever encounter. I actually look forward to going to the dentist now, how weird is that, haha? :-) Keep up the great work.

Brian K.



Office is clean and inviting. Front desk staff are welcoming and willing to answer any questions. I had Dr. Lanigan for a cleaning and 2 crowns. He did an amazing job! I felt absolutely nothing and he was informative and charming. I highly recommend this office.

Danielle B.



Great Staff! Super friendly and professional will definitely return.

Preston F.



I love my dentist Dr.Mcalin she is awesome…and my hygentist Jerri they are superstars!

40msmoe



I've been going to this practice for I think 4+ years now and absolutely recommend them! Dr. McCarty is the best! I'm always treated with respect and care. My dental hygienist is Kelly and she's amazing! I'm never in pain after a cleaning like some places I've been. We have a good chat and laugh a lot! Thank you all for a positive experience!!

Sandy M.



Konikoff dentistry is awesome! Especially because they have the BEST dental hygienist in the world – Chrissy D.! They all do a great job, very professional, and really friendly. Way to go, Konikoff! :)

Jacqueline S.



My dental hygienist, Joan, was friendly and thorough and my teeth feel fabulous!

Leisha M.



All of the staff, from my initial phone call, to checking in, to my hygienist Tracey and Dr. Maclin were professional, helpful, and warm. They were generous and kind when my childcare for my first appointment fell through and I had to cancel and reschedule at the last minute. I'm grateful that they still accept the military dental insurance; it's easy to say "we support the military" but t…

Sabra C.



Everything was explained to me beforehand. The assistant and the dentist were very friendly and gentle. The doctor gave me my injection and I barely felt anything. Very pleased!

Debra R.



It was my daughters first visit as a three-year-old and the dental hygienist was wonderful with her, explained everything and kid friendly terms and made it a fun, comfortable experience for her!

Lisa L.



Friendly and trustworthy. I've been really happy there.

Tolan D.



Dr Lanigan is the best. Makes my visit to the dentist a hole lot better. Everyone is so polite and professional. When I have an emergency they get me in with Dr Lanigan asap as I won't see anyone else. Thanks to his professionalism I am seeing dentist more than ever before. Thank you Dr Lanigan for helping me save my teeth.

Anne C.



I have been using Konikoff Dentistry for years. Dr. McCarty and his assistant Kelly are two of the best dental professionals I have ever been fortunate enough to meet. The care at Konikoff is like none other. They are prompt, professional, efficient, and extremely friendly. Everyone from the front desk personnel to the check out personnel make the entire experience seem like visiting good friends…

A J.



This practice provides that small town neighborhood feel. As a loyal Konikoff patient for over 20 years, this practice continues to provide me and my family of four an exceptional experience with their courteous, professional, and compassionate staff.

Melissa G.



Best Dentist I have ever been to. Friendly & caring for my needs

Eric Z.



Doctor Richards always does great work.

Frank A.



I think Dr McCarty is a kind, caring dentist. He regularly took the time to ask if I was OK or in any pain during my (difficult) cracked molar extraction, and when necessary provided extra "numbing" and/or lidocaine as needed. He thoroughly explained the procedure before he got started, and the assistant explained after care both before AND after the procedure. I will definitely go here again.…

Margaret G.



As always received VIP treatment.

James L.