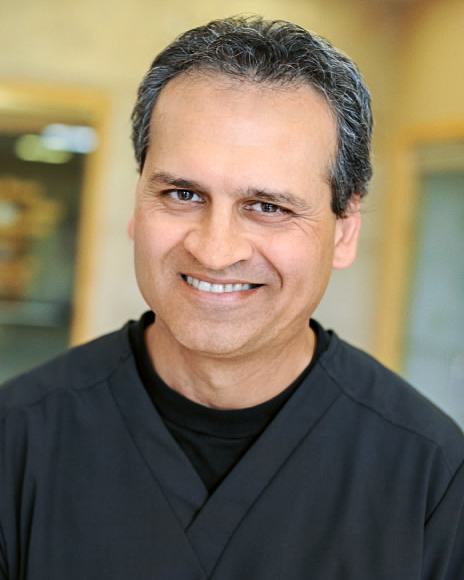 Growing up, Dr. Nabeel Rahman always pictured himself playing professional soccer someday. However, it was what his coaches taught him as a young player that ultimately led him away from the soccer field to practice in a dental office. "They taught me that if you had determination, motivation, desire, discipline, focus and passion, you could do anything," Dr. Rahman said. "That encouraged me to consider a career path in dentistry." Dentistry appealed to him for the opportunity it provides to solve patients' problems, restore their smiles and give them immediate solutions.
Dr. Rahman earned his Bachelor of Science degree from The University of North Carolina Greensboro in 1987. He received his Doctor of Dental Surgery (DDS) in 1992 from the Virginia Commonwealth University (VCU) School of Dentistry. After dental school, he completed an Advanced Education General Dentistry residency at University of California, San Francisco. Dr. Rahman has been practicing and serving patients in Chesapeake since 1994.
Today, at Konikoff Dentistry, he continues his tradition of finding solutions for patients by building personal connections with them. Dr. Rahman joined the practice because it has a similar philosophy to his own and places the same value on patients and staff.
When he's not in the office helping patients, Dr. Rahman spends time with family and enjoys a variety of activities: travel, golf, exercise, water sports, cooking, barbecuing and volunteering with the Boy Scouts of America. Once a month, Dr. Rahman guest lectures at Chesapeake Regional Medical Center on diabetes and oral health. Dr. Rahman is a licensed youth soccer coach and plays in a men's soccer league in Virginia Beach.
Dr. Rahman continues his passion of helping patients find solutions to restoring their smiles and maintaining their over-all oral health. This includes Implant placement and restoration, Partials, Dentures and Cosmetic Restorative Dentistry.