Quit Smoking: Improve Your Oral Health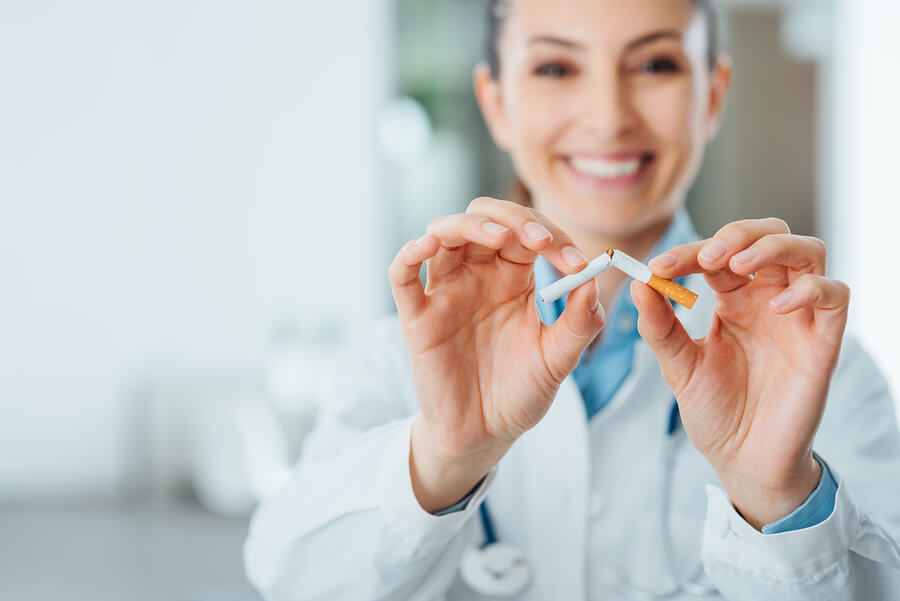 Taking action to quit smoking is one of the best things you can do to improve your oral health and prevent gum disease.
While most people know that smoking puts you at greater risk for cancer and heart disease, fewer are aware of its connection to dental health problems such as periodontitis — gum disease. In fact, smoking is one of the leading causes of severe gum disease in the United States. Left untreated, the infection can lead to bone loss. Many people lose their teeth to gum disease.
Make a plan to quit smoking.
Thousands of people attempt to quit smoking during the Great American Smokeout, held annually on the third Thursday of November. Whether you're planning to participate or quit on a different day, make sure to check out these tips at smokefree.gov. You're more likely to successfully quit smoking if you have a plan and the support of friends and family.
Health benefits boost willpower to quit smoking.
It's not easy to quit smoking. Nicotine is very addictive. Sometimes, it helps to focus on the health benefits you'll enjoy if you quit smoking. Consider these facts from the American Cancer Society:
On the first day you quit, the carbon monoxide level in your blood drops to normal. Your heart rate and blood pressure also come down.
Within three months after quitting, you may notice it's easier to breathe because your lung function increases. After one year, your risk for heart attack decreases. And after five years, your risk of cancers of the mouth, throat, esophagus and bladder decreases by 50 percent. You'll also have the same stroke risk as that of a non-smoker.
Smoking can lead to gum disease.
If you smoke, it weakens your body's immune system and ability to fight off illnesses such as a gum infection. Smoking also makes it harder for your body to heal from gum damage, according to the federal Centers for Disease Control and Prevention.
Gum disease is caused by bacteria in the mouth. When the bacteria build up, they can spread below the gum line. You can have bone loss or notice that your teeth are loose.
Here are 4 reasons to quit smoking for your oral health:
If you smoke, you have twice the risk for gum disease.
The more cigarettes you smoke, the greater your risk for gum disease.
The longer you smoke, the greater your risk.
If you smoke, it's harder to treat gum disease.
Quit smoking: Give yourself many reasons to smile.
Smoking can give you premature wrinkles, bad breath and yellow teeth. Celebrate quitting by asking your dentist about teeth whitening. Professional teeth whitening by your dentist can make your teeth several shades lighter than over-the-counter products. Enjoy better oral health and a confident smile.