Periodontal Disease: Prevention, Warning Signs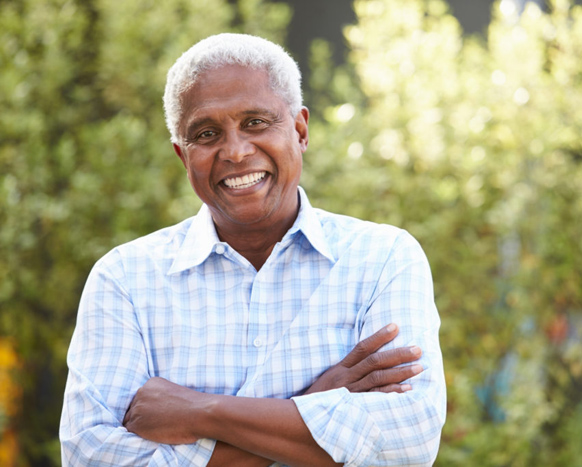 Nearly half of all adults over 30 in the United States have some form of periodontal disease – most commonly called gum disease. For people who are 65 and older, it's much more common. Seven out of ten have periodontal disease, according to the federal Centers for Disease Control and Prevention.
Bacteria in the mouth cause periodontal disease. The bacteria build up between the teeth and spread below the gum line. Gums pull away from the teeth. People can have bone loss or their teeth may become loose and fall out.
Unfortunately, many people don't know they have periodontal disease. When it's left untreated, people often lose their teeth.
Are you at risk for periodontal disease?
Certain habits, medical conditions and other factors can increase your risk for periodontal disease. Smoking, stress, diabetes, pregnancy, crooked teeth and poor oral hygiene can make you more likely to have gum disease. You can also be at risk if you take medications that cause dry mouth or have fillings that need to be fixed.
Watch out for these possible symptoms of periodontal disease.
You should see your dentist regularly for checkups. Make sure to schedule an appointment if you notice any of the following warning signs:
Bad breath
Bad taste in your mouth that doesn't go away
Red or swollen gums
Tender or bleeding gums
Loose teeth
Tooth sensitivity
Pain when chewing
Receding gums
Control early stage of periodontitis.
You can treat and control gingivitis – the first stage of gum disease – by taking good care of your teeth and gums. When you brush your teeth, and floss every day, you remove the bacteria that causes periodontal disease.
See your dentist and hygienist on a regular basis.
Having your teeth professional cleaned on a regular basis can help treat and keep gingivitis in check. Your dental hygienist and dentist can tell you if you have gingivitis or if you have any bone loss – a sign of periodontitis.
At Konikoff Dentistry, patients can have scaling and root planing treatments to help treat the infection. In more severe cases, patients may need to see a periodontist who specializes in treating gum disease.
Is it time for your dental checkup? Request a dental appointment at Konikoff Dentistry online or by calling 1-800-SMILE-23. Konikoff Dentistry has eight convenient locations with three offices in Chesapeake, one in Suffolk and four in Virginia Beach.