Posted under:
General
Posted on: November 17, 2020
Invisalign: Frequently Asked Questions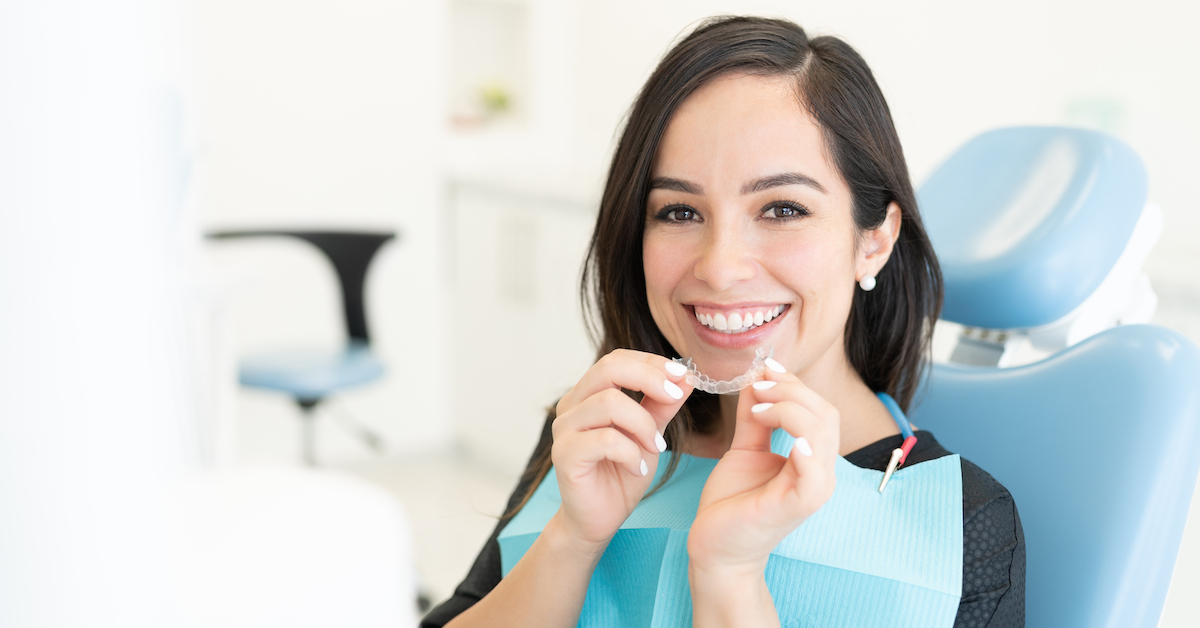 If you're self-conscious about your smile because your teeth are misaligned or crooked, then the Invisalign system of aligner trays can provide you with the beautifully straight and even teeth that you want. A beautiful smile will increase your self-confidence and enhance your self-esteem, so call us today to learn more about this innovative system of braces.
How Does the Invisalign System Straighten My Teeth?
Developed in the 1990s by four Stanford students, the Invisalign aligner trays use clear plastic trays to gently reshape your teeth into their proper position. The trays are made of SmartTrack®, which is a modern thermoplastic that's FDA-approved and contains no BPA or BPS, and it's gluten-free and latex-free.
Since SmartTrack is extremely thin, it fits your teeth very snugly and uses gentle pressure to nudge them into the proper alignment. The trays are virtually invisible, so no one needs to know that you're wearing braces.
They can be removed for special occasions but should be worn between 20 and 22 hours each day.
Can Everyone Use Invisalign Trays?
Most people are good candidates for the Invisalign system unless they have some complex orthodontic issues that require other treatments. Other issues that may contradict the use of Invisalign include:
Smoking
Unwillingness to remove, clean, and replace the trays daily
Lack of motivation for good oral hygiene
Lack of dedication to wearing the trays for 20 to 22 hours each day
Those that have severe alignment issues
Who Is a Good Candidate for the Invisalign System?
Most people are good candidates for the Invisalign aligner trays, but very young or very old individuals may not have the manual dexterity to remove and replace the trays, so another system might be better for them. Smokers aren't good candidates because the nicotine can damage the trays, so if you're interested in the Invisalign trays, then now is a good time to stop smoking.
What Is Involved in Getting Invisalign?
Those who are in good health and at least in their late teen years are usually good candidates for the Invisalign system. If you have bite issues, gaps, crowded teeth, or misaligned teeth, then the Invisalign trays can probably help you. Your Invisalign dentist will be the deciding factor in the decision to use the Invisalign trays. Your dentist will thoroughly examine your teeth and gums to determine if you're a good candidate and then recommend Invisalign or another type of braces.
If you and your dentist opt for the Invisalign trays, then we'll make an impression of your teeth and gums and use that to fabricate your trays. You'll receive replacement trays every week or every other week, and you'll need to come to our office for a checkup every four to six weeks. By the date you come in for your first checkup, you should see progress in your tooth alignment.
You may notice a slight pressure when you first install your replacement trays. This is normal. It's the trays adjusting to the teeth and guiding them into the proper alignment. The feeling of pressure should disappear within a few days, and after that, you shouldn't feel anything. The slight, initial pressure is far less inconvenient than the chafing and cutting of the metal wires-and-brackets of traditional braces. The Invisalign trays won't interfere with your speech. The plastic is extremely thin, so it molds to the contours of your teeth and gums, so your pronunciation when speaking shouldn't be adversely affected.
Your treatment will last for 12 to 18 months, depending on the degree of adjustment you need and your dedication to wearing your aligner trays.
Will the Invisalign Trays Affect My Daily Routine?
Your daily life shouldn't be adversely impacted by your aligner trays, although you may need to make minor adjustments, such as:
If you smoke, then quit before you start the program.
You shouldn't chew gum when wearing your aligner trays.
Remove your aligner trays before eating or drinking.
Be sure to brush and floss after each meal. Trapped food particles can cause decay and gingivitis to start, which can damage your trays and extend your treatment time.
Be sure to wear your trays for 20 to 22 hours daily.
Your aligner trays should be very comfortable. It may take a day or two to get used to the feel of them in your mouth, and you may feel some pressure initially. However, these symptoms should disappear in a couple of days.
How Visible Are the Invisalign Trays?
For the most part, the aligner trays are invisible. They're made of extremely thin plastic, and they fit very snugly. If someone is standing in very close physical proximity to you, they may notice them, but since people see what they expect to see, they may not. Those who are farther away will probably not notice the trays. If you are unable to get Invisalign trays due to the level of correction needed, there may be other options available that are not as evident as traditional metal braces. Speak to your dentist if you are worried about people noticing your braces, but not a suitable candidate for Invisalign.
What Happens at the End of My Invisalign Treatment?
At the end of your treatment, your dentist will probably recommend that you wear a retainer for a while. Usually, this is only for a few months or up to a year, and the retainer is worn only at night. It's important to wear the retainer, however, so that your teeth don't revert to their misaligned state. Your Invisalign dentist will advise you of the length of time that you'll need to wear a retainer.
Is There a Local Invisalign Dentist in My Area?
Only dentists and orthodontists who have been specially trained in the Invisalign procedure are authorized to offer the Invisalign aligner trays. If you're interested in the Invisalign system, then call Konikoff Dental Associates at and schedule an appointment. We can determine if the Invisalign system is right for you or offer you an alternative so that you can have the beautiful smile that you've always wanted. Call us today. You'll be glad you did.