Invisalign® 101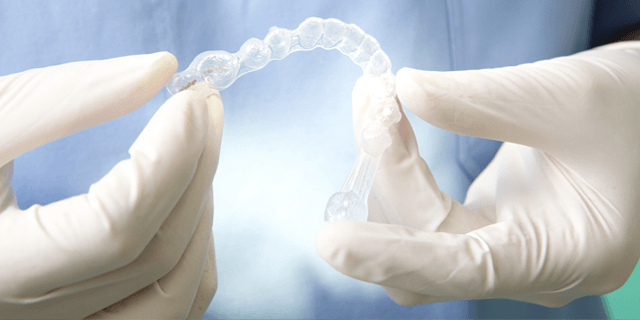 Dr. Joseph C. Dobson, III
How would you rate your smile?
If crooked teeth have you saying anything less than a perfect ten, we'd like you meet Invisalign®.
How does Invisalign® work?
Invisalign® is a custom-fitted, nearly invisible aligner that gradually moves your teeth into place. It's like braces, but instead of cumbersome and uncomfortable metal, it's made of smooth, removable aligners.
Can I use Invisalign® just for my upper teeth?
Invisalign® should be used on both your upper and lower teeth because straightening your teeth is a mouth-wide process. Your upper and lower teeth work together to chew food, so straightening the top and not the bottom, or vice versa, throws off the overall symmetry of your bite, which could lead to other complications.
Do I have to wear Invisalign® all the time?
The great thing about Invisalign® is you can take it out whenever you need to. If you're going to be in photos, eating dinner – whatever the situation, simply pop out the easy-to-remove aligners and you're good to go. That said, for the best results you'll want to wear your aligners 20-22 hours a day.
Do I have to avoid certain foods with Invisalign®?
Not at all. Unlike braces, which can keep you from your favorite foods, you'll have no dietary restrictions with Invisalign®. Simply remove your aligners, eat whatever you'd like, brush your teeth and put the aligners back in. It's as easy and convenient as that.
What other benefits come from Invisalign®?
For starters, you'll find yourself more confident – with having nearly invisible aligners instead of obvious braces, you don't have to shy away from smiling. Plus, straighter teeth actually have a positive impact on your health. You read that right. According to the American Dental Association, by straightening your teeth you'll reduce your risk of gum disease and tooth decay.
How do I pay for Invisalign®?
Konikoff Dentistry accepts all major insurance companies. Many dental insurers pay up to $2,500 for Invisalign®. (Which is what they also pay for traditional metal braces.) To see how much your insurance company will pay, just give us a call.
Flex Spending Accounts (FSA):
You can pay for Invisalign® with your FSA. Currently you set aside $2,500 of your pre-tax income for Invisalign®.
Payment Options:
To pay for your Invisalign®, Konikoff Dentistry offers Wells Fargo, Care Credit and Citibank financing options. Patients can apply for dental financing in the office online. Credit decisions are quick and confidential! Click here for more information.
For more information about Invisalign® visit www.Invisalign.com or Invisalign®.